Important Documents When You Need Them
Delivering life's most important documents is more than just a day's work at VitalChek; it's a tradition we take great pride in doing.
Through the years, we've provided documents that helped reunite families, make vacation dreams come true, and get sports All-stars signed up for another season. To us, birth certificates and other vital records are more than just pieces of paper issued by the government; they are critical pieces of information that play crucial roles in some of life's most important events.
Whether you need a birth certificate to help secure a passport for a honeymoon trip or a certified death record to settle a loved one's estate, you want a service you can trust from start to finish. That's why when it comes to ordering vital records, VitalChek should always be your first choice. We are not only the premier service authorized by government agencies from coast to coast, but we are also the one express certificate service that more Americans depend on than any other. To understand why, check out the customer comments below: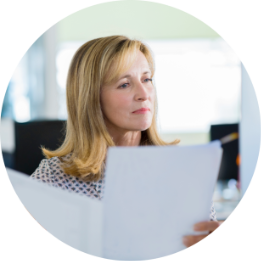 Don't Take Our Word For It!
Read why Americans from all walks of life look to VitalChek to deliver life's most important documents.
"I don't know if you will remember me. You recently went through 600 faxes to retrieve mine so you could get my birth certificate to me by my wedding day (which was 5 days away!). Well, you did a great job and I just wanted to thank you with all of my heart."
"Thank you for helping me through what I thought would be a complicated process. You made it easy."
"Thank you very much for such quick service, well within the 72 hours promised, and just what I needed."
"I just wanted to let you know that we used VitalChek to access a birth certificate which we needed very quickly. The staff that assisted in obtaining this document was exceptional…It is nice to know that some companies still take great pride in customer service."
"I just wanted to thank you so much for your help last week getting my son's birth certificate. You made a very stressful situation less complicated and helped me get his certificate right away. I wanted to let you know, your service made a difference."
"I want to express, as clearly as I can, how much your help with my recent VitalChek orders has been to me and my husband… You took your time to understand what I needed… In this age of hurrying, that was remarkable."
"Your attention to one small individual in a customer base of thousands should be commended as customer service is the all of all's in business today. It's what will have me to tell a friend and a friend."
"This is a great website and service you provide. Very convenient and easy to use. This is the way to do it...easy, fast, clean and clear."