That's especially true when you're ordering key identity documents like birth certificates, death certificates, marriage or divorce certificates.
We work directly with more than 450 government agencies around the country to get you the documents you need – more quickly, safely and affordably than any other advertised online service.
Experienced
We've been helping people get their vital records from official state and local government agencies for more than 35 years. Today, we process more than 4 million orders for these key documents every year.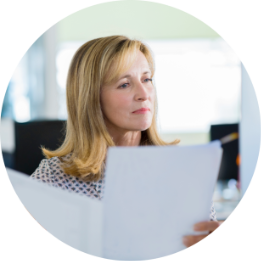 Transparent
Unlike other advertised online services, we won't hide any part of our process or fees from you. We work closely with our agencies to submit your information directly to them, and they in turn prepare and ship your certificate to you.
---
Your final price will include three key parts:
Agency's Fee
$2 – $50
which covers the cost of searching/preparing the document.
Nonrefundable VitalChek Processing Fee
$2 – $16
covering our ordering and validation services.
Shipping Fee
50% less
than retail shipping rates for the same package.
That's it. No unexplained fees, ever. Take a closer look at our pricing.
Secure
We securely provide your information directly to the government agency that will issue your vital record – whether it's a birth certificate, death certificate, marriage or divorce certificate. The information you provide is only used to prepare your request for the agency (including validating your legal right to the certificate and verifying your identity), allowing the agency to search for and produce the certificate, and ship the vital record to you.
Every online transaction is fully encrypted and firewall protected, meeting the highest Payment Card Industry standards (Level 1 Compliant) and federally-mandated standards set by the U.S. Department of Commerce for the transmission and storage of confidential data.
Fast
Once your order is complete and verified, your information is securely provided directly to the issuing agency. Your certificate will be processed and shipped quickly (actual processing times vary), and will typically move faster than those ordered through other methods. The only thing faster is placing your order in person at the agency's office – if that is convenient for you.
UPS United States Postal Service